What is Common Rail? How does it Work?
Common Rail Diesel systems entered into the passenger market back in 1995 by Denso and are now becoming the standard for diesel fuel injection. Each fuel injector is mounted directly above the piston within the cylinder head (there is no pre-chamber) and is connected to the fuel rail by steel lines that can withstand the high pressure. This high pressure allows for a very fine injector orifice that completely atomizes the fuel and rules out the need for a pre-chamber. The actuation of the injectors comes via a stack of piezo electric crystal wafers that move the jet needle in tiny increments allowing for the spray of fuel. Piezo crystals function by growing rapidly when an electric charge is applied to them.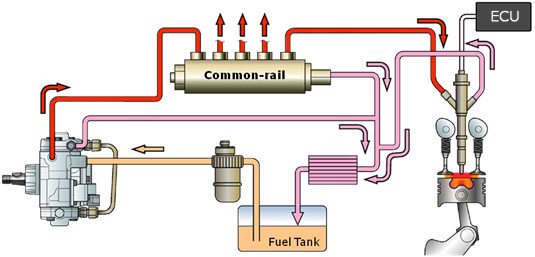 Like the fuel pump, the injectors are also controlled by the engine's ECU and can be fired in rapid sequence several times during the injection cycle. With this precise control over injector firings, smaller, staggered injections of fuel delivery can be timed over the course of the power stroke to promote complete and accurate combustion. In addition to timing control, the short duration, high-pressure injections allow a finer and more accurate spray pattern that also supports better and more complete atomization and combustion.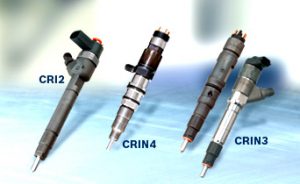 Benefits of the Common Rail System
Better Fuel Economy
Cleaner Emissions
Quieter Engine Running
More Powerful
Common Rail Fuel Injector Testing
Onsite we can test both Bosch and Denso Common Rail Injectors using the latest equipment. One extra benefit of the common rail system is when replacing Injector(s) you only need to replace the faulty/poorly performing injectors, unlike in-direct injection where all the injectors are recommended to be replaced. In just a few hours we can test your injectors to determine if any need to be replaced, most replacements can be sourced same/next day.